Souped Up Garage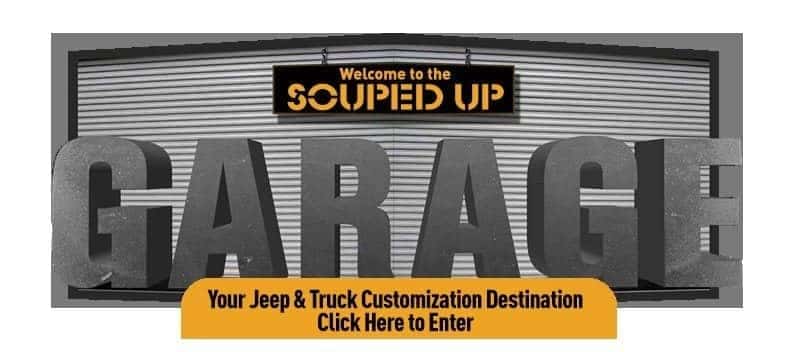 Customize Your Jeep or Pickup Truck at the Ron Lewis Souped Up Garage near Cranberry Twp
Ron Lewis Chrysler Dodge Jeep Ram provides top quality customized Jeeps, and trucks to drivers in Cranberry Twp and all the surrounding areas. With a reputation that is built on trust, integrity, and respect, we are the choice dealership for many drivers near Mars, Sewickley, and Beaver. Stop by and see us today. We'd be more than happy to show you what we mean.
Souped Up GarageSM is a collection of services available from the Ron Lewis Automotive Group to customize your new or currently owned Jeep Wrangler or Ram truck in a way that makes it unique to you.
The Ron Lewis Automotive Group's Souped Up team builds out Wranglers and Rams for our lots. We also do customization work for current Jeep and truck owners, as well as customers buying new Wranglers or Rams. New Jeep Gladiator builds will be coming this year as well!
We're creative and passionate about our Souped Up designs…Find out what we can do for you by emailing [email protected].
Find out what we can do for you by emailing [email protected].
Souped Up Garage Services:
Audio/Video Electronics
Carriers & Cargo
Exterior – Lifts, Bumpers, Chrome Bling, Tops…
Interior – Slush Floormats, Upholstery…
Wheels & Tires
Off-Road Ready Equipment
Lighting & Specialty Electrical Options
We only use quality parts and accessories to customize our vehicles. These accessories include offerings from MOPAR and other aftermarket vendors. We can do lifts, bumpers, chrome bling, and more. Need to be equipped for off-roading? We have custom built trucks and Jeeps that are perfectly tailored for off-road drivers. Plus, we can make changes to any of the vehicles we have in stock so that your vehicle is perfect for your individual needs. We also provide custom wheels, tires, specialty electric options, carriers, cargo options, and more.
Your complete satisfaction is a top priority, so you can expect our Jeep and pickup truck accessories to be of excellent quality, and you can anticipate the same in our workmanship.
Our Souped Up Garage team is made up of custom car building enthusiasts. Everyone on our team is passionate about what they do, and our number one priority is providing you with a custom vehicle that you are going to enjoy for years to come.
If you want to see the best of the best in MOPAR accessories, count on us to provide them. If you want a custom-built vehicle that everyone will talk about, come on down and see us today. We love building uniquely, customized vehicles, and we look forward to assisting you with your off-road personalization needs.